Dear Daughters
My dad has given me some pretty sound advice over my life. Be kind to people. Have empathy. Be nice to the kids who need a little more support. Honesty is the best policy. Integrity is paramount.
One of the moist poignant things he ever told me was that it was human nature for people to talk about other people. People talk about people. People will also talk about events, ideas and the weather, but mostly, they will always talk about people. What they're doing and what they've done will always be a popular conversation topic.
This simple fact has allowed me to put human nature into perspective. When I'm being talked about, judged, criticized, I know that it won't last forever before a newer, more interesting person becomes the topic of speculation. I've been the victim of vicious rumours that felt like they would ruin me, but dad was right; eventually it blew over. People started talking about something else. Something newer and more interesting always becomes the hot topic. It has also enabled me to be more considerate when I find myself talking about others as well. I try to put myself in their shoes and keep some perspective. I am usually the one trying to be the devils' advocate with regards to speculations and I try to avoid the whole mob mentality when it comes from making snap judgments on others. It's not always easy to do. After all, its human nature to talk about other people, and some people are idiots.
Assuming its nature to talk, than it's also natural to feel upset when others talk about you. To feel judged is a terrible feeling, and as much as I want to protect you from such judgemental tendencies, I know you will be better served by my teaching you how to cope with the gossip groupies.
First, to quote Taylor Swift, 'Shake it off.' Whether you're getting teased on your new haircut, or because you're the first one to put up your hand in class, or because you like a boy who the kids don't think is cool enough, know that you don't need their approval. YOU DON'T NEED THEIR APPROVAL. As long as you're a nice person and try to be kind, that's all that really matters. You don't need friends that bring you down. You don't need the approval of people who don't matter.
Secondly, come home to cry about it. Once you're safe if your parents arms, you can let your pain loose. Unfortunately, letting your pain show in public is like attracting vultures to a carcass. If they see that they hurt you, they will continue to peck at you until you snap. I know this will be hard. It's not easy to turn off those feelings until you're in a safe environment to deal with them, but trust me, not everywhere is safe to let your pain show. I've cried my eyes out in the bathroom before, only to emerge with red, swollen eyes which gave me away every time. I have been better served with my ability to detach in the moment from my emotional hurt, and deal with it later, when I have a box of tissues, a supportive ear to listen, and comfy clothes. Please don't mistake my message though, the point is not to turn off your feelings entirely, only to know that you can tell them that you'll deal with them at a later time. It is possible, and it is doable. As long as I'm alive, I will be your supportive ear and your shoulder to cry on.
Lastly, my advice is to rise above. Your goodness is not determined by others. Your goodness is innate, it comes from within you. You never need to justify your existence to others. Your decisions are your own, and as long as you approach life with a kind heart, you will be okay. But remember, when you are talking about others (it is human nature, after all), try to be considerate before being judgemental. It will take you a lot further in life than those who are not.
Dear Daughters
One day in the distant future, you will be faced with trying to decide what career you want. It's a right of passage that we all go through, and it can be quite daunting, especially when you've been taught that you can do anything you put your mind to. My advise to you is that you consider not only what you want to do for a career, but how you want to make a living. How you want to spend your days, because you will spend a HUGE amount of your time doing your job. A job that you work five days a week, eight hours a day, fifty weeks a year, equates to about two thousand hours a year of you doing your job. I suggest that you do something that you enjoy.
When I was in high school, I found micro biology fascinating. The idea of these tiny microbes living in a world only visible by microscope was incredibly interesting to me. I decided that I wanted to be a microbiologist. I knew that I could be anything I tried to be, so why not that?
Our high school did a work experience program and I was able to go spend an eight hour day in the labs at our hospital. There was an incredible array of high tech equipment used for diagnosing peoples ailments, some very nice men and women who were very kind to me, and a behind the scenes view of what happens in labs to help people. The nice lady in the microbiology departments was very kind, and she showed me what she does on a daily basis which was taking samples from patients, putting them on Petri dishes, then incubating them to see what would grow. After the samples had time to incubate, the type of microbe could then be identified and a patient would be diagnosed.
Fascinating, but not for me. I found the lab to smell really bad, which makes total sense because you are, after all, growing microbes from stool, urine and bile samples. Of course that would smell bad. It was also dark, because that too, is useful for growing things that like the dark and damp environments.
The ladies spent their day in the lab, save only for leaving for lunch and coffee breaks, which consisted of going down one level to the cafeteria. They didn't see fresh air for the whole day. I knew after one day, that that wasn't how I wanted to spend my two thousand hours a year. I'm very thankful for that work experience though, because it's a hard lesson to learn after you've spent four years in college getting trained for a profession that you won't actually like doing.
I make my living working on a ferry boat. I make a great wage with good benefits, and I get to be outdoors. I get to talk with people all day long, and enjoy the gorgeous west coast scenery that we're famous for. I revel in the joys of watching dolphins, hump back whales and killer whales on a regular basis. I thrive in the routine of going back and forth from dock to dock, four round trips a day.
I help load traffic onboard, then I go steer the ferry to the next dock. I am highly trained to respond to emergencies on board, like fires, fuel spills, crash landings and evacuations. I am confidant in my job, and I've been given great opportunities working in my field.
I had to make a decision about how I wanted to make a living. It was hard for my parents to accept that I was dropping out of college to pursue my marine tickets, but they were, like they always have been, supportive of me. Eleven years later, I know I made the right choice.
I encourage you dear daughters to consider not only the career you want when you grow up, but to consider how you want to make a living.
Dear Daughters,
I am constantly surprised by you. Both of you. There's something magical in the way you learn and evolve. The pride in your eyes when you master a new skill, or the triumphant look that you get when you've tackled a challenge. I hope that you grow knowing that your possibilities are truly limitless. There is nothing that you cannot learn and master; there is nothing holding you back. 
My parents never put limits on me. They encouraged me, and told me how proud they were of me. They told me all the time that I could be anything that I wanted to be if I put in the effort. Practice makes Perfect.
They let me quit baseball. Twice. They indulged my eight years of piano lessons, even though I refused to learn how to read sheet music. I was never any good at sports, although I was decent on the basketball court many, many years ago, and I really enjoyed dancing ballet. I joined the 4-H sewing club. I also had some pretty exciting adventures while I was an Air Cadets. Gliding in a little plane with no engine above the Comox Valley, competing in a Biathlon in Vernon, and hiking 17km to Cape Scott at the Northern tip of Vancouver Island. Three times. I flew alone to Germany when I was 14 as part of the Rotary Overseas Summer Exchange. Then went again when I was 15. They bought me a clarinet when I went through my band phase, and let me cover every single inch of my room with pictures from magazines and scotch tape.
Thanks to my parents, it never occurred to me that there was anything I couldn't do, and I want you to know the same. I'm evolved past the 'Practice makes Perfect' mentality of my youth because, honestly, nothing is perfect. Striving for perfection can drive a person crazy. It was driving me insane. I now follow the 'Practice makes Progress' mantra, because after all, making progress is so much more rewarding than chasing perfection. After all, you as well as I, are already perfectly perfect. Keep learning and growing my dear daughters, and keep making progress in whatever choose. I'll be doing the same.
Dear Daughters
When I was a young teen, I ruined Christmas. I pre-opened every single present that I could find in our house. I was sneaky too. I'd use a razor blade to slice the tape and then I'd reseal it with perfect precision. I not only opened mine, but everyone else's too. I ruined Christmas. And I only made that mistake once.
It's hard to have patience. If it was easy, everyone would do it. Patience is wisdom in waiting. I hate being patient. It has NEVER been my strong suit, however, ruining Christmas 'cured' me of being impatient. I can wait now.  I waited for my husband to marry me. I waited to have babies.  Waiting is easy. Having the patience to wait for a surprise is hard, but the surprise is usually worth the wait. Especially when you're pregnant.
My grandmother always told me that learning the gender of your baby was the biggest surprise that life will give you. She encouraged me to wait until my labour day to find out if a son or daughter would be our blessing. She died before Miss B was born, but I listened to her. We went the whole pregnancy answering people that asked if we knew what we were having. 'A Baby' was my tongue-in-cheek reply. My mom generously offered to pay for a 3D ultrasound, but the idea of seeing our baby before his or her birthday was not for us. I spent my pregnancy thinking of boy and girls names, and decorating the nursery with greys and yellows with hints of green. I was good with that. The only thing I knew FOR SURE was that I wanted my husband to tell me gender. It just wouldn't be the same hearing it from our doctor or a nurse.  Hubby had to tell me.
Flash forward until I was 15 hours through a late night labour, 8 hours on the epidural and 4 hours into pushing, that moment happened. And my mind went blank. When the pain was over (I had a high epidural, so I felt all the tearing, crowning, ring of fire etc.  Fun eh?) and that purplish, grey goopy baby was put on my chest, I had nothing. The only thing that was going through my head was 'its over' as I looked at this mass of black goopy hair. I heard nothing, time stopped. Then my husband broke through my shock with ' it's a girl!' "It's a girl!!???"  
That was the biggest moment in my life. I still get goose bumps when I tell the story.
We did it again two years later.
I expected a boy this time based on having a totally different pregnancy, but ultimately I teetered between imagining what our life would be like having two daughters versus a daughter and a son. Not so secretly, I was happy imagining two girls, because, well, I know girl stuff . I was terrified of having a son. They scare the hell out of me. But I knew I would get over it as soon as he was born because love is unconditional.  I can pretend to like worms and trucks and baseball.   We can buy all new baby boy stuff cause putting a boy in a pink excersizer or sleeper is socially unacceptable. I can figure out how to change a poopy blow out diaper when there's a penis to work around.  No problem.....  Flash forward, 4 hours later, with 20 minutes of pushing....
"It's a girl!!!"
*Shout out to my fellow mommies out there that find out gender ~ all the love and respect!  I LOVE when my friends find out the gender of their babies (& tell me!).   This is our story
Dear Daughters
 Time is relative. That is why when your baby cries, ten minutes feel like thirty, but when you're busy and rushed, time flies by.  Waiting for the kettle to boil feels like an eternity but trying to get the family out the door in half an hour and that time is gone in an instant.   
     In theory, if I live a slow paced, peaceful life, it will be like having a longer life because I would be taking the time to experience it all along the way. I love my slow paced life.  I'm enjoying almost every minute of it, and I hope it does pass by slowly.  I couldn't imagine a better life than to slowly spend it loving you.
Dear Daughters
 I have always been the stubborn one.  I would cut off my nose despite my face more times than I care to admit.   On top of being stubborn, I'm also a bit of a know-it-all.  The two combined is quite the combination!  Growing up, I made my opinion known regardless of the subject.  My personal filter was never very good.  My brain was a sieve...  whatever came to mind, I blurted out.   This has caused me to alienate more than a few friends over the years, and caused some discourse with others.Although I have these self professed "character flaws", I have chosen to embrace them and love myself despite these shortcomings.  I have also worked quite hard on thinking before speaking.  I have so many great qualities that I cannot dwell on the few that suck. 
  I have always had strong opinions, and there are few topics that I'm more passionate about than parenting my girls. While I was first pregnant with Miss B, I have very strong beliefs on how things were going to go.  I would have a drug free deliver to a healthy baby boy. He would never chew anything plastic, would eat only organic food, be exclusivly cloth diapered and breast fed. He would have all natural crib matresses and watch hardly any t.v.    And I was stubborn on these issues. I was vocal about it all because  I was convinced I was right on all the above topics.    After our daughter was born, I was the first one to let her chew on plastic.
  I have accepted that it's okay to change your mind.  It makes you a bigger person to be able to admit that there is a better way of thinking and doing things.   The only thing in life that is constant is change.  Nothing will ever stay the same forever.  Once I would have held steadfast in my beliefs no matter what, dispite even contrary evidence presenting itself thus proving me wrong. Well, then I might admit that I was wrong, but you had to prove it.    Now I'm quite sure that there are many people out there that has figured out how to do things a little better than I have.   I had to admit that I was wrong. And I'm okay with that.  I'm wrong all the time.  And that's okay because I'm right a lot too. 
  Our house is filled with plastic toys. Everywhere.  You know why?  Becuase kids love it.  They love all the primary coloured plastic pieces things that  light up and make noise and ruin the decor scheme I worked on for years.   They love chewing on them, and putting them to bed, and dancing around the living room to the  music coming from the toddler piano.  The t.v. is on, the disposable diapers cover my daughters bums, and it's all good.  I changed my mind. 

Dear Daughters

When I was in grade 5, my parents seperated. It was a hard time for my entire family.  I remember being driven home by a friends parents one night, and I was looking up at the starry sky when I saw a shooting star.  I vividly remember wishing that my parents would get back together.  They did, and recently celebrated their 34th wedding anniversary.  My wish came true.
When I was in my late teens, I wished for a chance with my husband and I got it.

When I was in my mid twenties, I wished and prayed that my Nanny (great-grandmother) would live long enough to watch me walk down the isle. She was 95.  I then wished and prayed that she would survive to see our baby born. And she did. Five generations of women.
I'm a believer in the power of wishes. I have proof that they work. So keep wishing, because they might just come true.
Our 5 generation photo with Miss B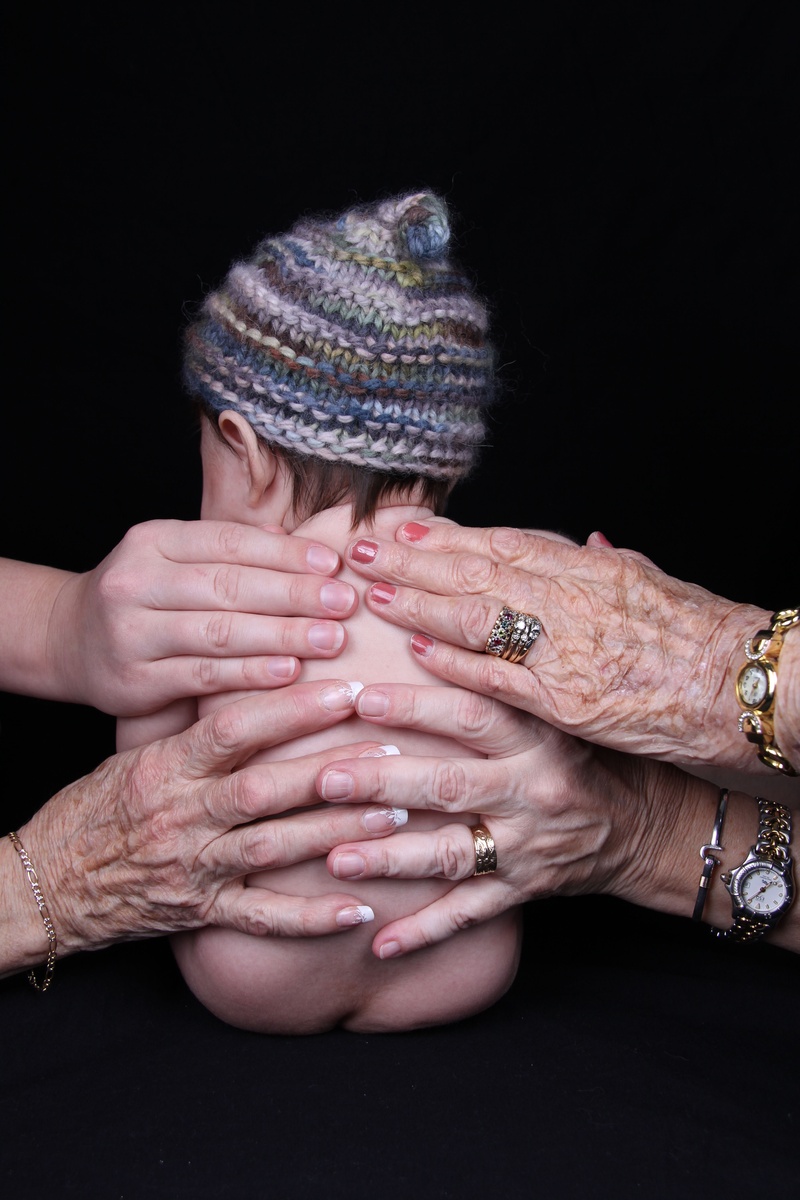 Photo Credit Lisa Wheeler

 Dear Daughters

I moved to our town on the coast of B.C when I was six.  My dad took a transfer for his job and we left our small town in the interior to come here.   Six years later, I was twelve, and my dad hired a new truck employee. Mr K was seventeen and the most handsome man I had ever seen..... but I was twelve...  awkward, pimply and still a little kid.   As the years passed, Mr K and My Brother became friends. As more time passed, he and I became friends as well.  I went off to college and came back a year later, in time to celebrate my nineteenth birthday. Well, to say the least, I wasn't twelve anymore!!  As soon as I figured out that I had a shot with him, I went for it!  He had to make sure that my dad and my brother approved first. Total Gentleman.   We've been together ever since, which is almost eleven years.     The quote that I wrote in the picture is true.  In my husband, I know true love.  I'm incredibly fortunate to experience it.  I never realized that there was a totally different category for love until Miss B was born. Miss M doubled it.  It's totally different, yet so much the same.  That's what I wish for my daughters - to have love fill their lives too.                http://pinterest.com/pin/202591683211259287/
Dear Daughters
Beauty is in the eye of the beholder.  So if you believe you are beautiful, you will be. Beauty comes from within.  It means something different to every person and is such an individual thing.  It isn't measured by the size of your clothes, but in the confidence of your step.  I hope that you realise that less is more with make up and more is more with clothing.     Your style is an expression of your personality.  Your attitude will either draw people towards you or push people away.  Beauty is totally open to interpretation, however, the source of beauty is not.  It is grown within from feeling good about yourself.   Beauty is confidence and charisma.  Beauty is all the things that make you different that everyone else.  
  Consider this, if looking like everyone else was the standard of beauty, everyone would be the same and thus less beautiful.  You would never stand out from the person next to you, which would make you invisible.   I'd rather be unique and beautiful in my own way, than invisible and beautiful by societies standards. 
  Beauty is created, shaped and molded by our experiences.    I choose to focus on the great moments and memories of my life because it helps me remember how blessed I am.  I flick the negative nazi off my shoulder and focus on the positives of my life.  It helps me smile more, and a smile is one of the most powerful things in the world.